hey all, Sarah here.
so it's been a while!
i was in Stratford, learning how to be a killer actor, got to play Kate in Shrew - it was wonderful :D
ah, aside from that, excited to get back into blogging!
maybe at some point i'll posted Stratford reviews.
we're always looking for affies and link exchanges :D
alright, so.
can i just say that I
love
Cate Blanchett?
omg you have no idea.
idk, it just hit me this morning so i felt like i'd blog about it.
she is so inspiring. she's, first of all, an amazing actor. if i am ever half the actor she is, i will be happy.
but she's also really eloquent, graceful, beautiful, and, of course, she has an
amazing
sense of style.
and she kills at accents and dialects. which is a personal fascination of mine.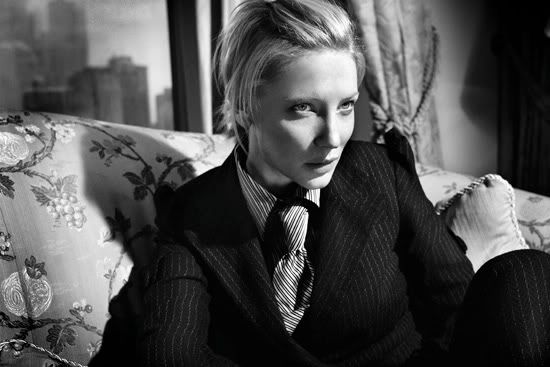 my personal favourite roles that she's played (in film) are:
- Elizabeth
She brought so much depth to one of my favourite historical heroines
- Veronica Guerin
See above
- Katharine Hepburn
rocking the menswear.
- Sheba Hart
omg LOVED IT. first of all, this is one of my all time favourite movies. but she was incredible in it. incredible.
- Lena Brandt
amazing.
i've seen her in quite a few other things as well, and she always amazes me, but these ones are all time faves. apparently she was in The Shipping News, which i didnt even know there was a film version of (such a bad fan!) but i've been dying to read the novel for ages.
so tell us - who is your favourite celebrity or actor?!